SHAAMS- Green Jobs Training
On the 30th of September, 1st and 2nd of October 2015, within the framework of the research and enterprise accelerator pillar of the SHAAMS ENPI CBC Med project, BIAT has held a training of trainers session entitled: Green jobs at the Don Bosco Technical School in Fidar.
This capacity building action came after collaboration between SHAAMS project and IECD by integrating additional courses on PV systems in the vocational official curriculum in Lebanon in order to ensure a long term sustainability of the project's impact.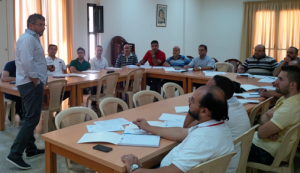 The training targeted electricity teachers in vocational schools In Lebanon in order to develop their capabilities to become PV experts and to be able to transfer this knowledge to the vocational school's students.
The training was given by three expert trainers: Mr. Jean-Claude Kosseifi, Mr. Elie Abou Jaoudeh and Mr. Francois Farage.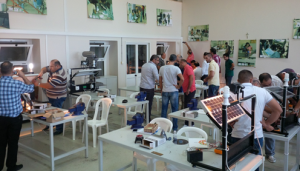 The topics covered were about the electrical fundamentals and solar safety, solar resources, PV module performance and optimization, Solar PV component and complete systems, the installation and maintenance and finally a case study was conducted on PV Synchronize system. These topics enclosed practical and theoretical aspect of the PV system.
A book was given to the teachers at the end of the sessions entitled:"préparer et réussir le Bac Pro ELEC" that contributes to the ELEEC professional baccalaureate holders.
At the end of the last session, BIAT distributed the certificates of attendance to the participants for their hard work.