Solar cooling workshop
Within the framework of the research and enterprise accelerator pillar of the SHAAMS ENPI CBC Med project, and specifically in the objective of promoting renewable energy in Lebanon by empowering 50 renewable energy experts (Mechanical and electrical Engineers and architects), BIAT held on March 3rd 2016, a Workshop on solar cooling technology by desiccation, developed by Sustain 'Air in the Sophia Antipolis Technological Park. The Project labeled COP21 by the Ministry of Environment in France. The workshop took place in Byblos sur Mer, Jbeil.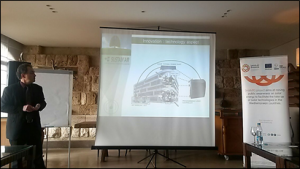 The expert Thierry Lamouche presented in 1 hour the concept and the potential advantages of the Solar Cooling Technology in addition to the feasibility of its usage in terms of cost saving and the required investment taking into consideration the needed customization of the model to the Lebanese context.
Afterward, a Q&A session followed the technical training where participants showed interest in the new innovative technology and discussed their concerns related to its implementation in Lebanon with focus on the environmental difference between France and Lebanon (humidity, temperature, etc.)