Solar Process Heating technical workshop
Under SHAAMS project and within the framework of the research and enterprise accelerator pillar of the SHAAMS ENPI CBC Med project and with the collaboration of the CCIAB and the Lebanese Solar Energy Society (LSES), BIAT organized a technical seminar entitled: "Solar Process Heating in Lebanon- Opportunities and key factors for quick assessments" on March 14, 2016 at the premises of the Order of Engineers and Architects in Beirut.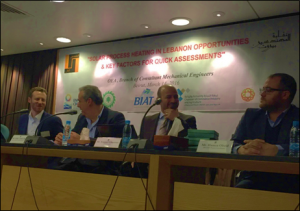 The Seminar started with welcome speeches by Mr. Eddy Abdel Hay the president of the mechanical consultant engineer's branch and member of the board at OEA Beirut and Mr. Youssef Ghantous, LSES president.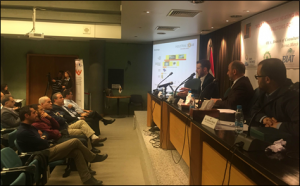 Afterward, Mr. Hamza Obeid, SHAAMS project coordinator presented SHAAMS project's objectives, activities, achieved results and impact emphasizing on the sustainability beyond the project.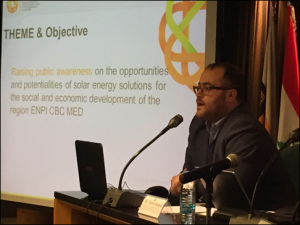 Furthermore, the technical presentation on the solar heating technologies was conducted by Mr. Martin Haagen (responsible for the business development of industrial solar in the Mena region and project manager for GIZ development partnership with the private sector to support solar process heat in Jordan). Mr Haagen presented the technology, opportunities and key factors affecting the feasibility of technology installation at the industrial level.